It's no accident that for gardeners, the year starts now, not January. And that's because this is the most important season when it comes to developing a fine garden and producing wonderful vegetables, fruit and flowers.
Just published is a survey by the Royal Horticultural Society (RHS -www.rhs.org.uk/press/releases/RHS-launches-Grow-at-Home-this-autumn ) which found that the majority of people (68%) think spring is the most important gardening season, compared to just 8% who think autumn is. No surprise as it's spring when you really notice plants bursting into life and that's when seed-sowing starts in earnest.
Following their survey, the RHS suggests that autumn not spring is arguably the most important gardening season, as it "is the ideal time for gardening as the soil is moist and warm, but not yet soggy, and so easy to plant while giving plants more time to grow new roots and be less vulnerable to dry periods in summer."
With all the increasing interest in gardening during the pandemic lockdown, we're seeing many more new people on allotments. They have discovered what a difference gardening makes to their health, happiness and well-being, but don't always know how to make the most of their time and money, and perhaps don't realise what a difference it makes if you put time and effort into autumn gardening. Fortunately, the longstanding plotholders on our sites are always ready at hand with tips about planting and plants.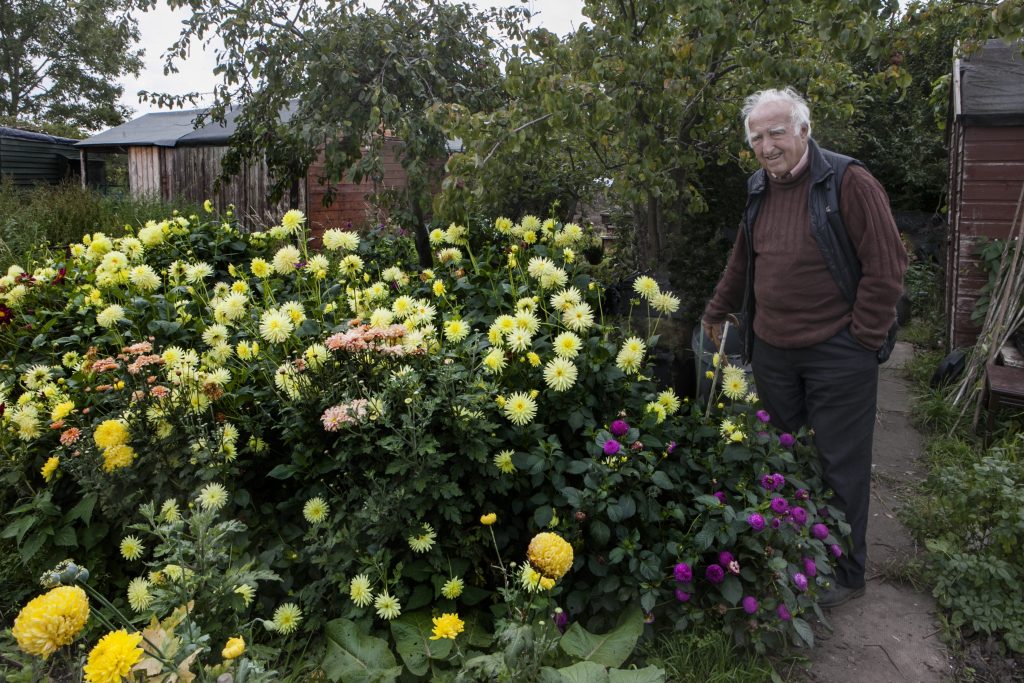 And there's lots of on-line advice too: the RHS' Grow at Home this autumn service is on hand for new and experienced gardeners: they have themed action packed weeks**, advice videos, some question and answer sessions and access via social media @TheRHS on Twitter, Instagram and Facebook and at www.rhs.org.uk/growathome.
In the meantime, the RHS says don't miss out on what you can do at this time of year:
Take advantage of end of season discounts as garden centres and on-line suppliers seek to clear stock and avoid probable annual price rises. With Brexit and Covid they suggest people buy goods now, not only as good gardening practices, but also due to potential cost increases in supplies.
Plant bulbs for spring flowers – an inexpensive and rewarding way of planting eg big bags of daffodil bulbs and other spring flowers at Wilko for £2 to £4
Lift and divide perennial plants to create new ones
Plant new evergreen plants, trees and perennials to get them established, and you'll need less water next year to keep them going
Compost your garden or allotment waste rather than putting it in the council waste bin or burning it – home-made compost saves buying bags and helps the environment
Collect fallen leaves to make leafmould or add to your compost – the best thing to improve the quality of your soil
This list misses some of the other things to do at this time of year: taking cuttings to start off new plants and harvesting/drying seeds from this year's crops to use for next year.
** For more detailed information and advice, try the RHS Themed Action Packed weeks:
28 Sept – 4 Oct – Grow Your Own Winter crops week

Winter Veg Planting and harvesting tips! Onions, garlic, broad beans, kale, shallots plus delicious recipes
5– 11 Oct – Grow A Tree of Hope Week

Inspiration and care tips for planting trees to benefit our health, the environment and wildlife.

12– 18 Oct – Celebrating Autumn colour

Top tips on how to incorporate autumn colour into your garden and home and discover the autumnal delights on display at RHS Gardens.

19 – 25 Oct – Compost Week

How to make leaf mould and compost

26 – 31 Oct – Autumn Clean! Important as Spring Clean!

Clean greenhouse, tidy up borders and lift tender species
And now to more mundane matters – paying for your plot!
Rent is now due from 1st October 2020 for the year 1st October 2020 to 30th September 2021. If you're new to allotments, the system is that local associations like the Ward End Gardeners Association (WEGA) are asked to collect the annual rents during the month of October, and confirm the list of allotment holders to the Council which owns the land and manages sites overall.
WEGA has five sites and has previously collected rents at its main site Northleigh Road. This year, we'll be collecting rents at each site at certain days and times and we can also make arrangements for on-line payment which will suit some people.
If you haven't already heard by email or text when or where you can pay, please contact the Secretary by phone 07812 248447 or use the Contact Us page on this website. It's important to make contact as there is a late penalty of £10 if you don't settle up by early November. Plotholders wanting to cancel their agreements or make some other change also need to get in contact this month.
Also be aware that the rents are the same as last year, but the Council tells us they will be going up in line with the Retail Price Index from next October (2021) – see the table below.
For people who wish to sign up as new plotholders, you need to come to the site where you want a plot. Ring the Secretary or use the Contact Us page to find out when.
ALLOTMENT RENT AND FEE CHARGES 2020/21 – INFORMATION FROM THE ALLOTMENTS OFFICER
The following rates will apply from the dates specified below.
| | | | |
| --- | --- | --- | --- |
| PLOT CATEGORY | Rate Type | 2020/21 Payable 1 Oct 2020 | 2021/22 Payable 1 Oct 2021 |
| Mini Plot | Full | £51.00 | £51.25 |
| | Over 65 | £27.00 | £27.13 |
| Small Plot | Full | £63.00 | £63.31 |
| | Over 65 | £33.00 | £33.16 |
| Standard | Full | £93.00 | £93.46 |
| | Over 65 | £48.00 | £48.24 |
| Large | Full | £113.00 | £113.56 |
| | Over 65 | £58.00 | £58.29 |