Family Fun Day June 2019
For the past couple of years, events have been organised throughout the Midlands in the last weekend of June, assisted by £500 grants from the Mayors Community Weekend fund and National Lottery. In 2019 the Association managed to win one of these grants so we held a Family Fun Day at the Northleigh Road site on the 30th June with the theme "Nature Nurture". Our aim was to advertise all our sites and encourage locals to visit us and find out what happens on allotments.
Apart from food and music, we had stalls – face-painting, mehndi, guess-the-weight-of-the-cake, information stalls provided by the Conservation Volunteers (TCV) and the National Society for Allotment and Leisure Gardeners. Young visitors could do a nature quiz, make veggie animals, insects or hedgehogs, or both adults and children took part in an allotment exercise challenge with wheelbarrows, canes and compost!
Hedgehog Rescue Craft at Family Fun Day June 2019

Miniature Garden activity Family Fun Day June 2019

Recycling Activity Family Fun Day June 2019

Veggie animals made by child visitors Family Fun Day June 2019

Veggie animal

Veggie animal

Front garden competition June 2019 Asquith Road

Front garden competion June 2019 Grange Avenue

Front garden competion June 2019 Swan Close

Front garden competition June 2019 Northleigh Rd

Front garden competition June 2019 Northleigh Rd

Front Garden competition June 2019 Washwood Heath Rd
We also ran a local front garden competition in the run-up to the event, entered by 25 households. The Prizes were presented at the event by MP Liam Byrne and Councillor Mohammed Aiklaq, for the front garden competition.
Association events and shows
The Association has been running events and shows for many years, with competitions to enable plotholders to pit their growing skills against each other and to show off to the public. The usual programme was: an early flower show in June, an Annual Vegetable and Flower Show in August, and a Chrysanthemum and Dahlia Show in September, and cups, plaques and certificates were presented at the AGM.
Currently we are reviewing whether and how to carry on the tradition as our Show Secretary Derek Cullen has now stepped down – he has been organising the city-wide Annual Show in August for the past 3 years and needs to commit more time to this role and BDAC projects.
The Association has also run charity events to raise money for the John Taylor Hospice in Erdington, Macmillan Cancer Support, and in 2018 we had a winter event to encourage the public to visit us and raise money for improvements on the sites.
In December, we have a Christmas party for members and friends, held in the Northleigh Road pavilion.
See the gallery for a selection of pictures from recent years.
Do you have suggestions on what we should organise in 2020? – use Contact Us page. We have a Committee sub-group planning and organising events – non-Committee people with something to contribute very welcome too .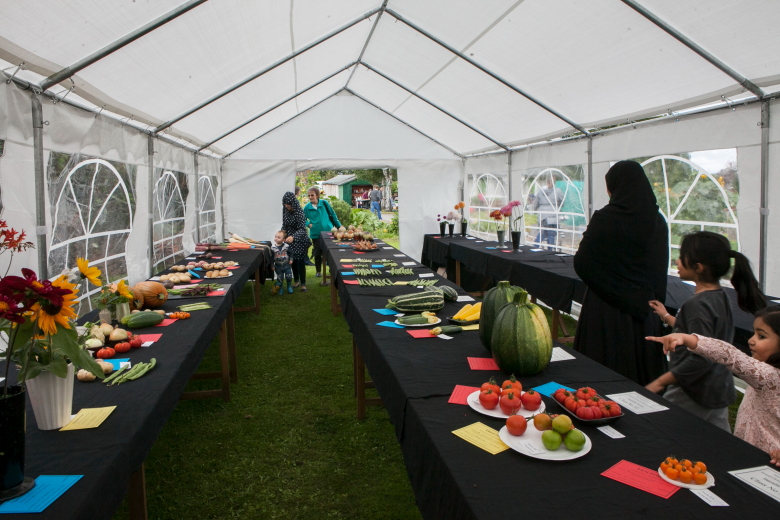 Annual Show 2015

Annual Show Pavilion 2015

Annual Show Pavilion 2015

Annual Show 2015

Annual Show 2015

Annual Show 2015

Plants for sale 2015

Display Flower Show Sept 2015

John Taylor Hospice Event July 2016

John Taylor Hospice cheque August 2015

Pumpkins Annual Show Sept 2016

Mick Merrill Roses June2016

Sweetcorns Annual Show Sept 2016

Christmas Party December 2017

Annual Show August 2018

Apples Annual Show August 2017

Beans Annual Show August 2017

Carrots Annual Show August 2017

Brian John Taylor Hospice event Sept 2018

John Taylor Hospice Event July 2016

September 2018 Show

John Taylor Hospice Event July 2016

Flower Show September 2017

Early Flower Show June 2018

Tomatoes Annual Show August 2017

Onions Annual Show August 2017

Potatoes Annual Show August 2017

Biggest onion entry August 2017 Annual Show

Christmas Fair 2018

Christmas Fair 2018

Christmas Fair December 2018

Christmas party December 2017

Joanne Sept 2018 Show

Eirwen & prize carrots Sept 2018 Show

Early Flower Show June 2018

Flower Show June 2018

Christmas Party Mick & Charlie Dec 2017

Christmas Party December 2019

Christmas party December 2019