This page attempts to give a short history of the Ward End Allotment sites. The 5 sites which now comprise the modern Ward End Gardeners Association were once just fields according to the 1902 map. The one exception to this is actually the main allotment site, Northleigh Road. This allotment was actually built on the drained mill pond of what was once a 15th century mill! Once known as Ward End Mill, in 1886 became Drews Mill. All that is left now from that era is the name assigned to the road which gave access to it, Drews Lane. The pond can be seen on the 1902 map below. Also a photo taken from the air in 1931 shows the mill pond itself! (See photo below). It's a shame that in the name of progress we lost a medieval site, but Northleigh Road allotments would not exist if it did. It also means that great growing conditions exist from all that alluvial sediment.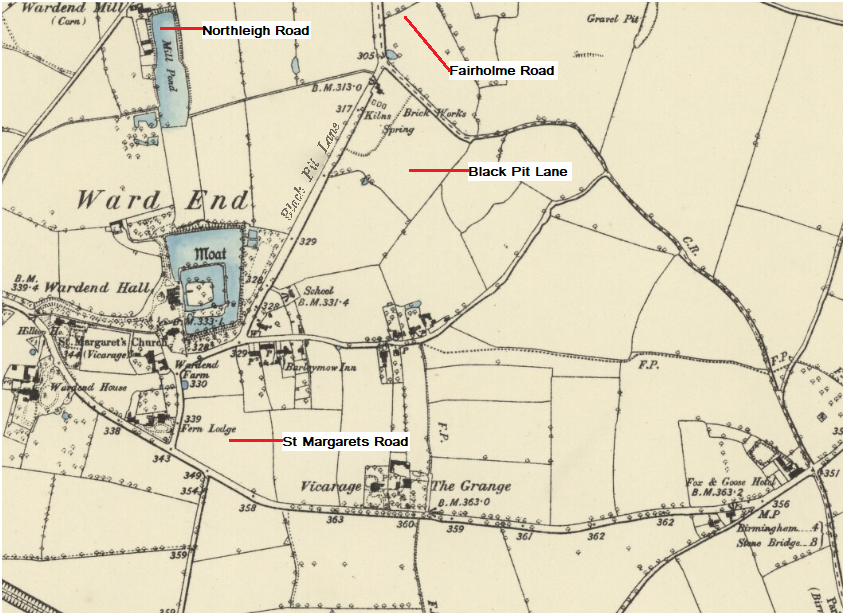 Black Pit Lane is an unusual name. Contrary to what you may think, this does not allude to the allotment itself. Indeed, it is not a very appealing name for an allotment. However you may be relieved to know that it actually takes it's name from the road that ran alongside it, as can be seen on the map above. This lane is now known as St Margarets Avenue. There are a few urban myths of how the road got its name. There is one theory that the pit alluded to a burial ground for victims of the black death! More likely the name alludes to kilns and gravel pits which were predominant in the area, as can be seen next to the allotment site on the map. There was a huge gravel pit on the park now known as the "Police Rec". In fact, the land next to Drews Lane where the Wolseley Car factory was built, was once used as a quarry and a kiln to make bricks from the red sandstone bedrock which runs underneath our feet in the area. The whole Victorian inner city was made from these bricks
Come 1930, the whole of what is now the Ward End housing estate was almost one big allotment site. During World War 1 there was a requirement by the governmental Department of the Realm to requisition huge swathes of land for the purpose of crop cultivation. The local Birmingham Agricultural and Smallholdings Committee took responsibility for the overall management of the cities 16,000 plots! Ward End was one of these vast areas. You can see from the 1931 photos below that the large allotment area stretched from Bromford Lane to almost Ward End park
After the Great War, there was huge pressure for massive industrial and residential expansion, and as a result, most of Ward End was converted into the housing estate that exists today. At the same time, there was also huge pressure to preserve the allotments for public use during the great depression of the 1930's. It was seen as a way to keep mind, body and soul together during one of the most severe and traumatic recessions of the 20th century. So there was also a big push to save the allotments from total annihilation. It's very interesting to note that this sounds very similar to arguments made today!
The sites were used mainly by residents of a highly industrialised and densely populated inner city. Most houses at that time, only had a "yard" with little or no recreation space, so people took on allotment plots which were scattered all around, of what was then, the border perimeters of the city. Most of our tenants lived very locally, within walking or cycling distance. Now people come from the surrounding areas like Hodge Hill, Aston, Nechells and Erdington where there are no allotment sites. We do have some tenants who come from further afield where their local sites are full. We do have one plot holder who would often cycle, or even walk all the way from Bearwood with a wheel barrow!
Today we know there is a great need for new urban housing. Developers are extremely hungry for any kind of inner city space to build new homes and businesses. Little by little, we are seeing developments encroach and erode any available space. We have seen it with the development of Tescos at the Fox and Goose where there was a 30 year battle to save the Met playing fields. They eventually took 30% of the playing field. The Barley Mow which dated back hundreds of years was recently demolished to make way for housing. Then there was the loss of the beautiful and grand Bromford pub which has been replaced by characterless shops and apartments. More than ever before, there is a bigger need to keep what remains of our heritage and inner city green spaces for current and future generations. Over the past 70 years, allotments have gradually fell victim to an ever expanding city scape. It has certainly been so in our allotment sites too. We have gone from the whole area being one big site, to 9 smaller sites, now we are down to 5. We should all be engaged in the fight to keep onto these little oases of peace. As the saying goes, once they are gone, they are gone for good.
Our allotments sites are very precious areas of land which must be protected. Not just for our human legacy. There is a whole array of wildlife found on our allotments. Apart from birds, foxes, field mice and of course domestic cats, allotments give space to essential pollinators like Bees and Butterflies. We are all aware by now that there are legitimate worries concerning our native species, many which are facing extinction. As we convert more land to bricks, concrete and tarmac, we are taking away essential habitats for insects and wildlife. Allotments are havens for these.
We see it as our responsibility at WEGA to try and incorporate specific areas on all our sites for promoting and attracting wild habitats.
So therefore it is vital that we support our local allotment sites if they are to survive. If we don't use them, we could lose them. We all have a responsibility to try and keep our precious spaces from becoming "history".
Photos courtesy of Britain from above showing Ward End as one big allotment site!