The days are getting shorter, it's damp if not raining, dark and with all the restrictions in place, you'd be forgiven for having the winter blues.
Cheer up, brighten up your days with Christmassy things and plan for next year's blooms, eats and treats.
Gifts for loved ones – or for you!
If you're a gardener or family members and friends are keen gardeners, indulge that passion with a gardening gift –
A special plant for the garden or allotment – one you wouldn't otherwise buy.
A subscription to a gardening magazine, the National Allotment Society (NAS) or Royal Horticultural Society (RHS) – for all-round interest and support
A gift voucher from a garden centre or on-line supplier so you can choose what to buy
Some allotment fruit or vegetables from your stores or freezer – something you can't find in the supermarket!
A festive wreath made from with stems, leaves and flowerheads, or a living wreath from succulents, something home-made to show your love.
Make the most of the good weather
When it's not too cold and damp, go outside for a blast of winter sunshine and top up your Vitamin D (all helps to keep Covid19 at bay). There's jobs to do on the allotment which are best – or more easily – done this time of year and you'll feel well refreshed when you go back inside.
Plant some garlic – the ground is still warm and soft enough
Plant a bare-root bush or tree – during this dormant period, it's the best time to plant
Prune fruit and other trees to increase your yields next year
Get those over-active weeds out before they have a chance to regrow
Enrich your soil with manure or compost
Comfort and healthy food from your stores
If you have managed to save and store vegetables and fruit from your allotment, now's the time to get them out and use them! Some are only good for a few months and won't be up to much if you leave them in the shed or freezer till next year.
Or you may have hardy fresh veggies like spinach, chard, sprouts and cabbage you can still harvest now and cook up some very tasty and nutritious meals. We need all the help we can get to boost our immune systems at the moment, so make sure you're making the most of what you've grown.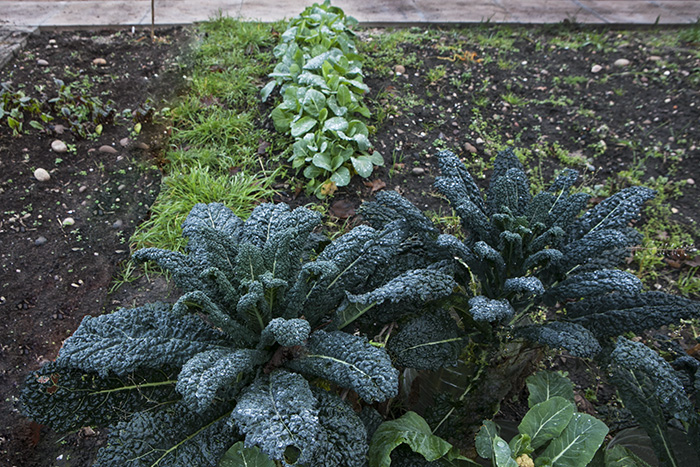 Christmas treats don't have to be drenched in sugar or chocolate, how about recipes with sweet potato or squash, or make desserts using raspberries or currants. Or if you've got some jam or chutney made from allotment produce, they can add flavour and punch to your meals with little effort.
Look it up
So it's dark, cold and damp, time to sit in the warm and find out what's what, plan your next year's growing, and buy what you've been promising yourself all year.
Here's some of the companies and organisations you can google – sources of supplies, special offers, subscriptions, advice, tips, recipes and more.
Kings Seeds https://www.kingsseeds.com/Products/Sundries/Gifts for seeds, tools and other sundries, gift vouchers. Discounts available through WEGA and National Allotment Society.
NSALG (National Society for Allotment and Leisure Gardeners) www.nsalg.org.uk/join-us for gift membership subscription – £23 individual subscription or £15 for quarterly magazine subscription and e-news, membership entitles you to discounted quality seeds, retail discount booklet and gardening advice
Royal Horticultural Society. www.rhs.org.uk/ For gifts, gift vouchers, gift membership, shopping gift vouchers, gift vouchers for national flower shows or a place on an RHS course,
RHS also sells outdoor and indoor plants, tools etc. Currently, the RHS website has tips on how to make a wreath, and how to plant garlic. If you're on the mailing lists, you get weekly updates.
Thompson and Morgan. www.thompson-morgan.com. For plants and seeds, Newsletter and
T & M Gardeners Club, as well as information on plants and how to care for them. Lots of special offers sent to people on the mailing list.
Van Meuwen. www.vanmeuwen.com Like Thompson and Morgan, they sell plants and seeds and have a Newsletter Gardeners Club. Also does a mailing list with special offers. Monthly Gardening Guides for advice and information. Current example: How to plant bulbs, corms and tubers
J.Parker's Bulbs www.jparkers.co.uk Sells bulbs and other plants. Runs blogs and 'How to …..' videos on its website. Examples: What to plant in December, What to do in the garden in December
Garden News. www.greatmagazines.co.uk/garden-news-magazine Gift Subscriptions to a weekly magazine with lots of tips and advice, special offers and information about gardening events and days out.