Rubbish dumped anywhere and everywhere around our streets is nothing new: we see it every day. It's one of the things which makes city life unpleasant when you have to walk or drive past piles of rotting bags, abandoned fridges and mattresses – or whatever else some people choose to chuck out of their cars and vans when they think no-one's looking.
Did you know that Birmingham City Council spends far more money on cleaning up litter and fly tipping than it does on bin collections? More than three times as much, in fact: in 2018/19 it spent £14.2 million on street cleaning, compared to £4.3 million on waste collection.
On our allotment sites, it's a similar problem – lots of general rubbish as well as stuff you'd expect to see on allotment sites:
Damaged or worn out gardening items – pots, netting, seed trays, tools, weed suppressant sheeting
Wood, metal and plastic of sheds and greenhouses which have been left to rot.
Broken glass, bricks and concrete. Old window frames and doors. Mouldy carpets.
Things which have nothing to do with gardening – car parts, household appliances, clothes, toys
So where does it all come from?
Rubbish that has accumulated over the years as people have died, retired or left – leaving what they don't want behind.
Building or other materials brought on by plotholders planning to put up sheds or whatever, and left on their plots or vacant plots when they finish their projects.
Unwanted household refuse and furniture thrown over back garden fences by residents living by the site, as if it was the Council tip.
Fly-tippers taking advantage of open gates, broken fencing or quiet access areas and tracks to the gates.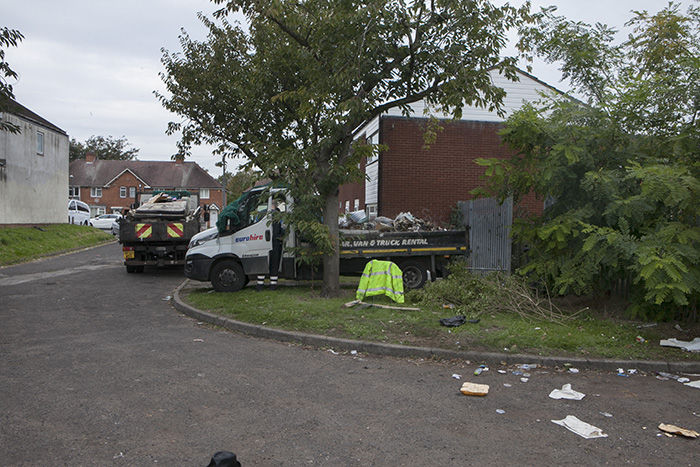 If that wasn't enough, getting rid of rubbish is costing us all hundreds of pounds and a lot of time and effort.  The current charge for a large skip is £210 and over the past year we've needed several.     Not a problem if the Association had a lot of income, but we only get back a small proportion of the rent money we collect, so it's a huge dent in our budget if we keep having to shell out money on skips.
Think of it this way, we need the rent money of 20 people paying full standard rent or 40 over 65's to get one skipful of rubbish cleared! At the moment there's people on all the sites making a big effort to clear up, and we've been lucky enough to get Veolia grants for two sites so this is helping with the costs.
But it's not going to solve the problem if some plotholders continue to dump and leave rubbish on the site. No excuse for doing this when Birmingham residents have a weekly waste collection service from our homes paid for by local taxes, plus a green waste collection service costing £35 – a bargain at £1.50 a collection for 22 weeks. For big items, it's free to take them to the tip and if plotholders don't have a car, they can always ask a friend to help.
Also, just to point out that the Council Allotment Rules say plotholders 'must not deposit rubbish, refuse or decaying matter…on the Allotment Garden or instruct anyone else to do so' and 'If the plot is left in a poor state of cultivation or requires the removal of materials, property or rubbish, then the vacating Tenant may be required to re-imburse the Council for reasonable costs'. So that's one of our options in the future.
On the question of non-allotment holders adding to the problem, that's another story. At the very least, we're hoping that the Flo Pickering fund will help with better fencing where it's in a bad state. But this problem is not going to go away easily as the mountains of waste and packaging grow and grow, so any suggestions for tackling it are welcome.