Another year dawns, and the light at the end of the tunnel keeps disappearing. As of 5th January, we're back where we were last March, and more worryingly, the new strain of the virus is apparently spreading a lot faster than the old one. On the plus side, the Covid 19 vaccine is being rolled out and while this will make a difference long-term, it will take many months before we can feel safe just going about our everyday lives.
So, if the general rule is that we must all stay at home, protect the NHS and save lives, what does that mean if you've got an allotment – or would like to have one?
The good news is that exercise is one of the "reasonable excuses" for not staying at home all the time, and allotment sites are one of the places where we are allowed to go. The bad news is that you must not leave home for the "purpose of recreation or leisure eg a picnic or social meeting". So provided that you 'go alone, with one other person or with your household or support bubble', you can take your exercise on the allotment site. The guidance also states that this should be limited to once per day, not involve travel outside your local area, and you should maintain social distancing when you exercise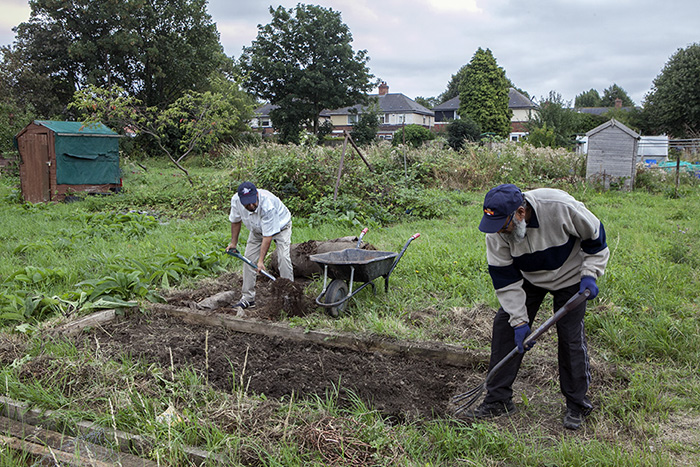 The other good news is that last year, all five allotment sites were open throughout the lockdowns and restrictions, and as far as we know, no allotment holders or visitors to our allotments caught Covid 19 while there. Yes, we know of one who was infected at work and recovered, and one of our Gardening Club members aged 88 caught it while in hospital, but is now back home after only suffering mild symptoms, and can't wait to start coming along again on Wednesday!
Things can change overnight, but at the moment, we have to limit anything which could encourage the sort of socializing which could help spread the virus. As it is now "against the law to meet socially with family or friends unless they are part of your household or support bubble" and the NAS has advised that "Communal activities should cease for the duration of the lockdown", we are reviewing how some of our activities like the Gardening Club operate, so things will not be the same for a while at least.
But let's appreciate the fact that allotment life is for the most part OUTDOORS so germs don't hang about as they do indoors AND it's easy to MAKE SPACE between you and other people. This is even more important now we are told that "One in three people who have coronavirus have no symptoms and will be spreading it without realising it" (Government guidance), so one way to make sure we don't unwittingly help the virus to spread even more quickly is to take extra care and follow the basic advice "Hands. Face. Space"
Handwashing: Difficult at allotments when we don't have professional cleaning of toilet facilities, or even usable toilets in the case of Lime Tree Road. So you need to wash hands thoroughly before you come and when you get home, and bring hand sanitizer and wipes to ensure safe handling when you open and close the gates or use water standpipes.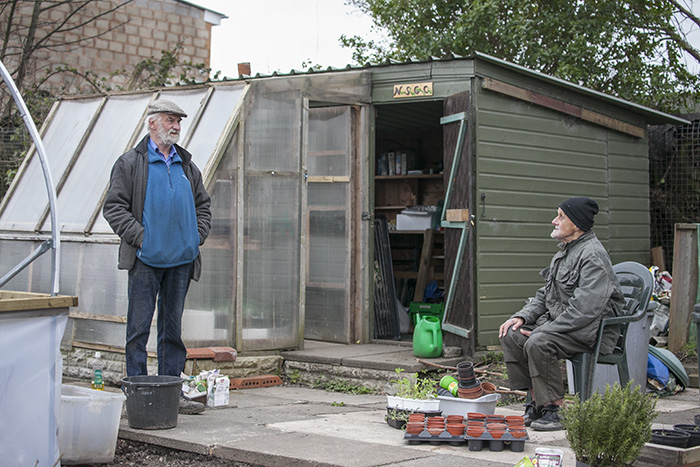 Space: It's easy to keep 2 metres away from other people you don't live with if you come to the allotment alone, or just with the people in your 'bubble' or one other person. If we do come into contact with other people, we just need to make an extra effort to keep our distance – it's unnatural to do this when having a conversation, but it's a small price to pay to keep safe. We're lucky we have somewhere to go and have some company – even if it's just to shout our hellos and goodbyes.
Face covering: Essential in indoor settings, this is advisable if it's going to be difficult to keep a safe distance from other people for the whole time when you visit the allotment site. Have your mask ready to put on whenever you are anywhere near other people, keeping them and you safe.
Here's some of the other Government or National Allotment Association (NSALG) guidance which we should follow:
If you are over 70 or have underlying health conditions, take extra care, as these mean you are at higher risk of severe illness if you catch the virus (Ivan being the exception here!) But clinically vulnerable people are still okay to exercise outdoors and meet up with one other person outside their household if they are on their own.
Don't come to the allotment site if you have any Covid 19 symptoms, and follow the guidance on self-isolation if you or anyone in your household gets any symptoms
Don't meet socially indoors with family or friends unless they are part of your household or support bubble – and that includes allotment site tearooms
Take precautions like minimizing or eliminating contact with anything touched by other people – for example gate locks, water standpipes, tools and wheelbarrows (see suggestions below)
On travel, government guidelines advise walking or cycling where possible, planning ahead and avoiding busy times and routes on public transport so social distancing is possible while on the bus; also avoid car sharing with anyone from outside your household or support bubble
What the Association is doing to keep people safe
As usual, we ask all plotholders to make sure they lock the site gates after them when they arrive and leave. Particularly at the moment this should mean that unauthorized people don't wander on to the site to use as a place they can meet undetected.
Prospective new plotholders can pay for their plot and get information on-line to minimize contact
We are increasing the ways members can communicate with each other and the Association Committee so everyone can find out what's going on without increasing physical contact. This includes the website, texts, emails and WhatsApp groups.
Association Committee meetings taking place indoors won't be happening until it's safe to do so, nor the postponed Annual General Meeting, so we're finding other ways to plan and make decisions for the sites, like a lot of other organisations.
The Northleigh Road Stores where you can buy compost, fertilisers etc on Saturday and Sunday morning, has an online ordering facility to minimize contact. (Use Contact Us enquiry form if you want to use this).
Minimising transmission through physical contact – suggestions based on advice from the National Allotment Society (NSALG). These help prevent your getting the virus or passing it on to others.
Do not touch your face after using anything that has been touched by other people.
Take a 'keep safe' kit with you to the site: flask of hot water, soap, paper towels and sanitizer (bottle of cold water OK if you don't have a flask).
Follow these steps when arriving:

Use hand sanitizer (minimum 60% alcohol content) before entering the site and opening any gate locks

Wash hands for at least 20 seconds after closing the lock, dry with a paper towel and then throw it in the compost heap OR use a hand sanitiser

Follow similar steps when leaving: wash hands or use hand sanitizer before opening the gates, same again after closing the lock, and wash your hands as soon as you get home
Do not share tools
Do not wash your hands in water butts.
As long as people are sensible, we can carry on gardening and enjoying our plots – not 'as normal' but by finding alternative ways to do things if what we used to do isn't possible. We can still buy seeds (garden centres open or buy on-line), we can still dig and plant, and even people new to gardening can find out what to do without taking unnecessary risks. So what's to stop us enjoying and getting the benefit from this part of our lives, even if other activities are banned for the moment. It's a no-brainer.
For further and more detailed information, go to:
www.gov.uk/coronavirus/national-lockdown-stay-at-home