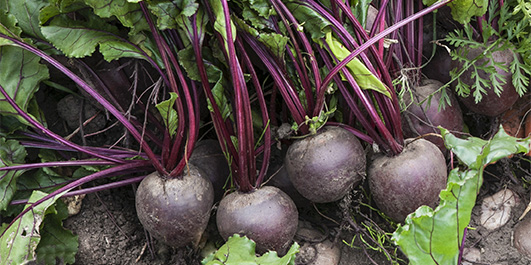 Borscht (Beetroot soup)
Not every year is a good year for beetroot, but when it grows well, you're going to be wondering what to do with them all. So why not try a borscht which is a traditional soup in Poland, Russia and other parts of Eastern Europe, and the recipes for it are as varied as the people.
Apart from beetroot, a borscht usually includes some spices and is served with sour cream or yoghurt. Spices can include black pepper, bay leaves, allspice, caraway seeds, cloves and mace. Garlic is optional, and if you want a thicker soup add in a couple of floury potatoes, peeled and cut small.
Here's 2 recipes for trying when you have a surfeit of beetroots on your plot. The first one also uses carrots and celery as well as onions. The Quick Borscht starts with cooked beetroot which you can buy if you don't grow it, and uses cabbage and cooking apples. Both are served with soured cream or yoghurt. A lot of the original recipes use beef stock, and if you're not a vegetarian, this is the stock to use.
Borscht – from scratch with raw veggies
Preparation: Less than 30 mins Cook: 1 to 2 hours Ready in 1-2 hours Serves 4-6
Ingredients
2 tablespoons oil
500g beetroot
225 g carrots
4 shallots (or onions if not available)
2 garlic clove, chopped roughly
1 stick of celery, chopped roughly
1 bay leaf
1 tablespoon caraway seeds
Salt and freshly ground black pepper
Enough stock to cover the vegetables with about 200 ml left over
Method
Clean the beetroot and carrots and roast with one of the garlic cloves and oil in a roasting tray, for around 30 minutes. Take out and when slightly cooled, peel and roughly chop.
Peel and roughly chop the other vegetables. Place in a large pan with the bay leaf and caraway seeds. Add the chopped beetroot and carrots.
Cover with the stock. Bring to a rapid boil. Cover the pan and reduce the heat to a simmer and cook for 30 minutes to an hour or until the vegetables are tender.
Remove the bay leaf and liquidise the soup until smooth, adjust the seasoning. Pass the soup through a medium sieve (not necessary if you like some texture).
Reheat gently, but don't allow to boil.
Serve with the soured cream.
Quick Borscht
About this recipe: It's from a book by Joanna Lawton (Meals in a moment – Quick cooking without meat) published by the Vegetarian Society in 1980, aimed at people wanting good food without spending hours in the kitchen. She advocates switching things around and inventing different combinations, as well as leaving out anything you don't have or don't like (eg garlic) and using an alternative. Go easy on the vinegar/lemon juice and spices the first time you make it, and if you use whole cloves or mace, take them out before serving.
Preparation: 10 minutes Cook: 20 minutes
Ready in 30-35 minutes Serves 4-6
Ingredients
500 g (1 lb) cooked beetroot
100 g (4 oz) white cabbage
2 cooking apples
1 onion
750 ml (1 ½ pints) stock or water
Sugar
Salt and pepper
Vinegar (cider vinegar works well) or lemon juice – 2/3 tablespoons
Cloves or mace
To serve: yoghurt or sour cream, bread
Method
Heat the stock or water and while it heats peel the apples and chop finely with the cabbage, onion and beetroot.
Simmer the vegetables and fruit in the stock until soft. The smaller the pieces, the quicker the cooking time. Add a teaspoon of sugar, salt and spices.
Add the lemon juice and vinegar in the last few minutes of cooking
If liked, stir in yoghurt or sour cream before serving with bread.
Note: if you are using pickled beetroot, then use a sweet apple and adjust the balance of the sugar, vinegar or lemon juice accordingly.