We couldn't let National Allotment Week go by without doing something, so at Northleigh Road site in Ward End, Birmingham, we organised last minute a get-together-and-jobs day just for plotholders and their families on Saturday 15th August.
More chatting, eating and drinking than anything else, it was a chance to socialise in the fresh air after so many months of lock-down, but we did do a bit of badly needed tidying up in and round the pavilion too.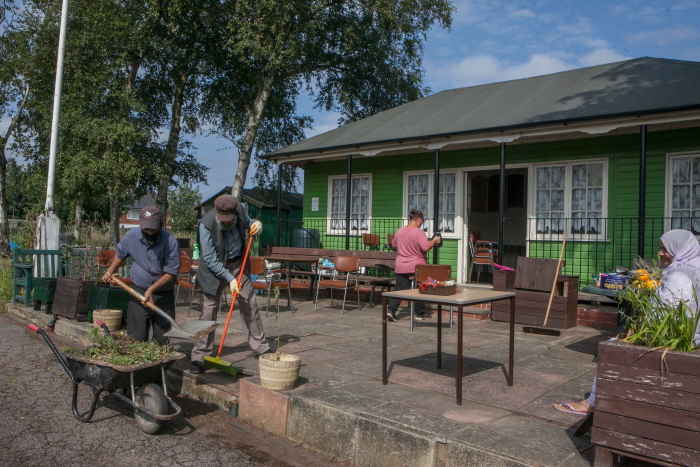 The highlight of the get together was Chiko Sibanda's meal that she cooked up from her allotment maize and cabbage harvest. Chiko and her husband, originally from Zimbabwe where their staple is maize rather than wheat, have been plotholders since 2011. Every year, it's a bumper crop whatever the weather, and the secret of success? Not magic, just hard work and sticking to the basics – preparing the ground, sowing at the right time, weeding and watering.
Anyway on Saturday, the people who turned up could all enjoy the outcome of all that work because Chiko brought along a full meal in skillets to warm up in the pavilion – Sadza, made from the maize, sausage, sauce and chops, plus three variations of a cut-and-come-again cabbage dish. Delicious!
Jamila, Iftikhar's wife, brought some equally tasty home-made samosas which all disappeared, and I brought a home-made courgette cake. Karen, who works at Tesco, got the Tesco food and drink organised, so when we'd finished tidying, cleaning and weeding, we could all just chill out, and get to know each other a bit better.
We also sold some of the spare produce grown on the site and a few second hand books – all helps to put a few pounds into the Association kitty.
Looking forward to getting Chiko's recipes to put in our recipe section of the website. Anyone else want to demonstrate their dishes from allotment produce, next time we have a get together?